The first mineral reserves in the emerging Tireo Gold-Copper Belt in western Dominican Republic
GoldQuest holds a significant portion of the under explored and highly prospective ground, which is known as the Tireo Formation
Romero, GoldQuest's cornerstone asset, is at the permitting stage to construct a 2,800 tonne-per-day underground mine
The Romero Project's robust pre-feasibility study (PFS) completed by JDS Energy & Mining was announced on September 27, 2016. The planned 2,800 tonne-per-day underground mine focuses on the high grade gold and copper "core" of the Romero Deposit to produce a saleable copper concentrate for shipment to offshore refineries. Over half of Romero's Mineral Resources are not included in the mine plan, as well as the entirety of Romero South. The unmined portion of the resources leaves significant room for potential expansion. The Romero Project is at the mine permitting stage.
The Romero Deposit was discovered in 2012 with spectacular drilling results. The Romero and Romero South deposits, located in the central part of GoldQuest's Tireo property, are approximately one kilometre apart. The Romero Discovery Hole, LTP 90, was the second last of a 15-hole-program testing an induced polarization ground geophysics (IP) target. Hole LTP-90 reported 231 metres grading 2.4 g/t gold including 160.3 metres grading 2.9 g/t gold and 0.62% copper. Notable drilling also includes hole LTP-94 which returned 235 metres grading 7.9 g/t gold uncut and 1.4% copper, leading to the first Maiden Probable Reserves in the district, with 7.03 million tonnes containing 840,000 ounces of gold; 980,000 ounces of silver, and 136 million pounds of copper. The brownfields exploration potential in the Romero Concession, both in the vicinity of and in between the two deposits, is substantial, and will be tested once mining permit is obtained.
Mineral Reserves
Mine Reserves

Tonnes

Au

Ag

Cu

Au Eq (1)

(Cut off $70 NSR) (2)

(g/t)

(oz)

(g/t)

(oz)

(%)

(M lb)

(g/t)

(oz)

Total Probable

7,031,000

3.72

840,000

4.33

980,000

0.88

136

4.9

1,117,000
Gold equivalent metal prices $1,300/oz Au, $20.00/oz Ag and $2.50/lb Cu
Cut-off NSR metal prices: Cu $2.50/lb Au $1,250/oz Ag $17.00/oz; Recovery: Cu-96.8 Au-71.7 Ag-54.4, Payable: Cu-96.5 Au-90.0 Ag-95.0, TCRC: $257.83/dmt, Cu concentrate 20%
Mineral Resources:
Category

Zone

Tonnes

Au (g/t)

Cu (%)

Zn (%)

Ag (g/t)

AuEq (g/t)

Au Ounces

AuEq Ounces

Indicated

Romero

18,390,000

2.57

0.65

0.31

4.2

3.43

1,520,000

2,028,000

Romero South

1,840,000

3.69

0.25

0.18

1.6

4.01

218,000

237,000

Total Indicated Mineral Resources

20,230,000

2.67

0.61

0.30

4.0

3.48

1,738,000

2,265,000

Inferred

Romero

2,120,000

1.80

0.39

0.36

3.2

2.32

123,000

158,000

Romero South

900,000

2.57

0.20

0.21

2.1

2.84

74,000

82,000

Total Inferred Mineral Resources

3,020,000

2.03

0.33

0.32

2.9

2.47

197,000

240,000
(1) Effective data for the Mineral Resource is September 27, 2016
(2) Mineral Resources which are not mineral reserves do not have demonstrated economic viability. The estimate of Mineral Resources may be materially affected by environmental, permitting, legal, title, taxation, sociopolitical, marketing or other relevant issues.
(3) The quantity and grade of reported Inferred Resources in the estimation are uncertain in nature and there has been insufficient exploration to define these Inferred Resources as an Indicated or Measured Mineral Resource and it is uncertain if further exploration will result in upgrading them to an Indicated or Measured Mineral Resource category.
(4) Gold Equivalent Metal prices used were $1,400/oz Au, $20.00/oz Ag and $2.50/lb Cu and recoveries of 78.1% for gold, 94.6% for copper and 58.6% for silver.
(5) Columns may not calculate precisely due to rounding errors.
Technical Report:

Romero NI 43-101 Technical Report (6 MB)

---
Target Minerals:Gold & Copper
Ownership
GoldQuest owns a 100% interest in the Romero project
Location & Access
The Romero Project, which includes our Romero and Romero South deposits, is located within the La Escandalosa exploration concession of our Tireo Property which has an area of 3,997.0 hectares. The Tireo Property (also sometimes known as the San Juan concessions) is located in the Central Cordillera of the Dominican Republic near the San Juan provincial capital of San Juan de La Maguana.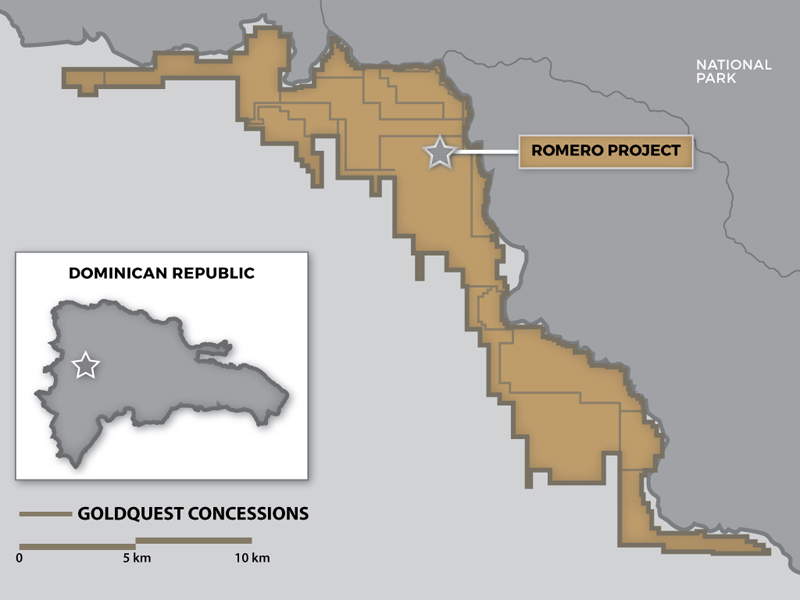 How We Found It
With previous experience, and proven development success in the Dominican Republic, our systematic prospecting approach across the entire country led our team to this previously unexplored area. Some key points in our discovery of Romero and Romero South include:
Outcropping mineralized rocks with gold, copper and zinc led to the discovery of Romero South (formerly Escandalosa)

After defining the Romero South deposit we initiated a ground IP program to look for other mineralized bodies (2011)

A 15 hole drill program in 2012 of which the 14th hole discovered Romero

Romero presented a new style of mineralization with thick (>200m) intervals of gold and copper mineralization


Geology
Romero is located on the south side of the Central Cordillera of Hispaniola and is hosted by the Cretaceous-age Tireo Formation volcanic rocks and limestones, which formed in an island arc environment. The deposit geology is a relatively flat lying sequence of intercalated subaqueous, intermediate to felsic volcanic and volcaniclastic rocks and limestones on the east side of thick rhyolite flows or domes. Mineralization is relatively stratabound and flat lying and is mainly hosted by a dacite breccia tuff.